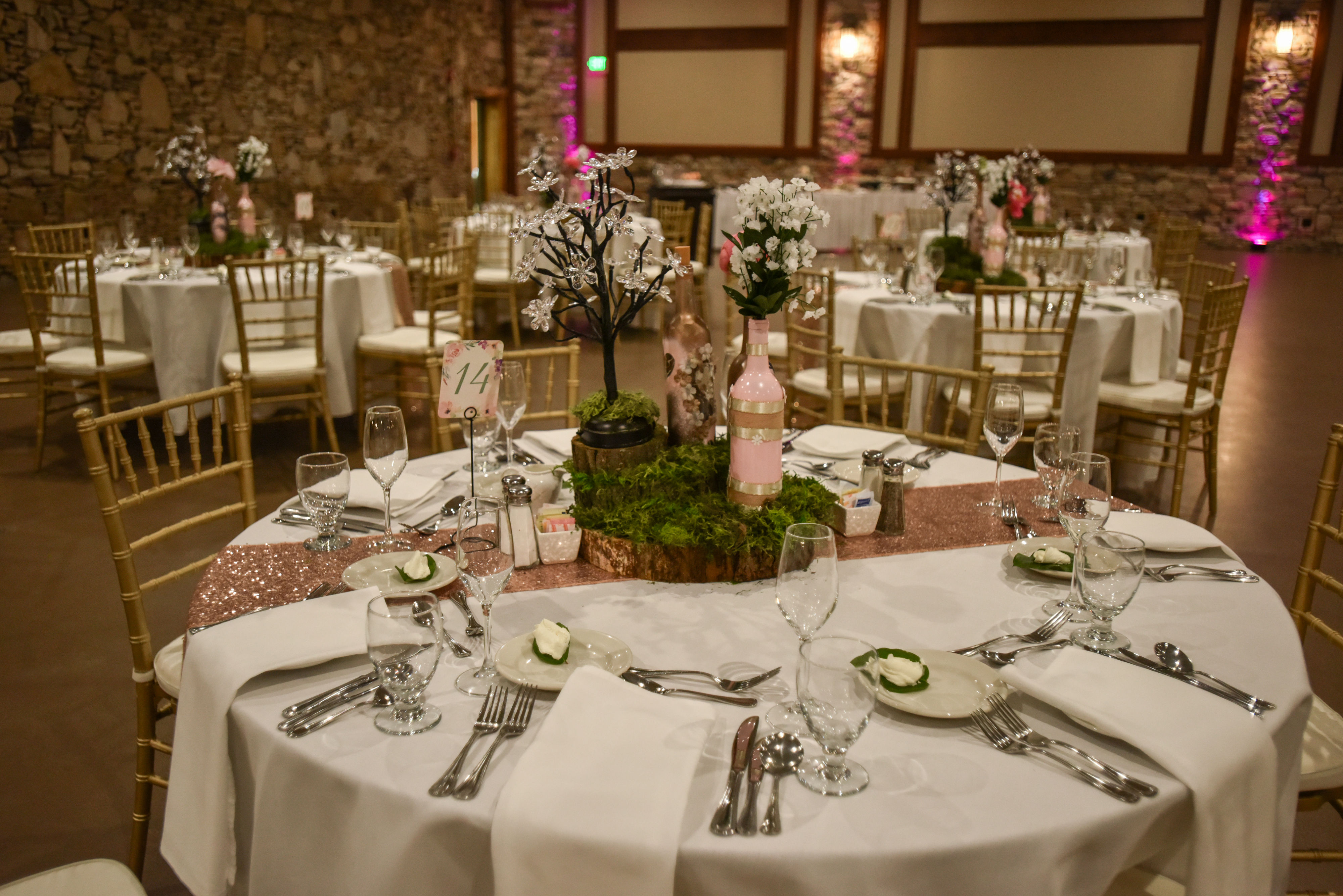 Your Mountain Wedding
Seven Springs boasts breathtaking views and unparalleled sights that provide a mountain escape perfect for any wedding. With its ample amenities such as the Trillium Spa, and numerous seasonal activities, Seven Springs provides a weekend getaway that is sure to bring lifelong memories to the newlyweds, as well as their family and friends.
Previous tab
Previous tab
Venues
As Seven Springs is a unique resort, so are its venues. Our ceremony locations are tucked away among the most pristine natural areas the mountain provides and our reception venues carry the tradition of the mountain with a touch of elegance.
Ceremony Venues
MEADOWOODS
One of the most enchanting venues Seven Springs has to offer, Meadowoods renders a piece of the mountain unlike any other. Surrounded by pines, Meadowoods provides natural wood benches for guest seating, carved stage nestled among the trees and a stone aisle for the bride's walk towards her happily ever after. (Capacity: 300)
HELEN'S WATERFALL
Just steps away from the first home built at Seven Springs, Helen's Waterfall cascades down the mountain offering the perfect backdrop for a small intimate ceremony. The stone patio at Helen's will lead your guests to a quiet spot in front of the waterfall surrounded by lush greenery as they await your arrival. (Capacity: 80)
THE ALPINE ROOM
For a smaller, intimate indoor gathering, The Alpine Room is the ideal venue for a wedding ceremony. Alpine Virtual Tour (Capacity 165)
Reception Venues
WINTERBERRY
Presenting the newest and most elegant wedding venue in the Laurel Highlands, Winterberry at Seven Springs Mountain Resort will amaze both you and your guests.
Rustic charm meets refined elegance with natural wood and stone accents and spectacular table settings (accented) with chiavari chairs, all perfectly tied together with a chic marble-stained floor that subtly makes a lasting impression. Muted, earthy tones will perfectly compliment your wedding colors, and the warm atmosphere will make your guests feel right at home as they celebrate your most special day together. Winterberry Virtual Tour (Capacity 250)
TIMBERSTONE ROOM
Sitting at the base of the mountain, the Timberstone Room features an extraordinary space with high ceilings and stone columns all of which are encompassed by large windows overlooking the face of the mountain. Timberstone Virtual Tour (Capacity 220)
ALPINE ROOM
Tucked away in the main lodge, steps from the hotel, the Alpine Room features large exposed wood beams that line its ceiling and continue throughout the space. The Alpine Room not only offers an exceptional view of the slopes, but provides a private deck just outside of the French doors for your guest to enjoy the natural surroundings. Alpine Virtual Tour (Capacity 165)
THE GRAND BALLROOM
Boasting 10,000 square feet of uninhibited space, the Grand Ballroom offers a blank canvas to paint your picture perfect wedding. With high ceilings and large stage to feature as you see fit, the Grand Ballroom is the ideal venue for any opulent soirée. Grand Ballroom Virtual Tour (Capacity 500)
EXHIBIT HALL
With tall stone columns speckled throughout the perimeter of the room and rich wood accents, Exhibit Hall features a traditional elegance that is sure to compliment any wedding design-scape. Exhibit Hall Virtual Tour (Capacity 350)
HELEN'S
In the heart of Seven Springs original homestead, Helen's Restaurant will take you back to a simpler time. With its polished rustic atmosphere, Helen's restaurant can be reserved exclusively for your wedding. Meet with the seasoned mastermind behind Helen's culinary creations while planning your special day alongside our wedding professionals. (Capacity 80)
Wedding Lodging
Seven Springs offers a multitude of lodging options for you and your guests who are here to take part in your special day.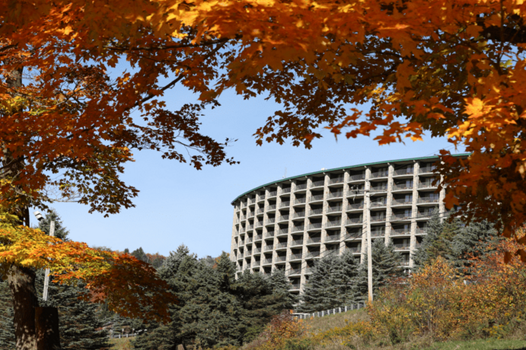 Main Lodge Hotel
Located at the base of the mountain, the 414 room Main Lodge Hotel offers comfortable guest rooms and luxurious multi-room suites to accommodate you and your guests. A block of rooms can be reserved for your wedding guests at a discounted rate.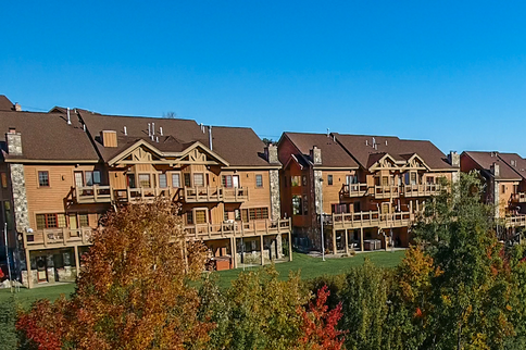 Vacation Home or Condominium
A vacation home or condominium also makes your wedding a comfortable, convenient one! Choose from over 250 condos that offer your guests great privacy, exceptional rates and provide the relaxing comforts of home.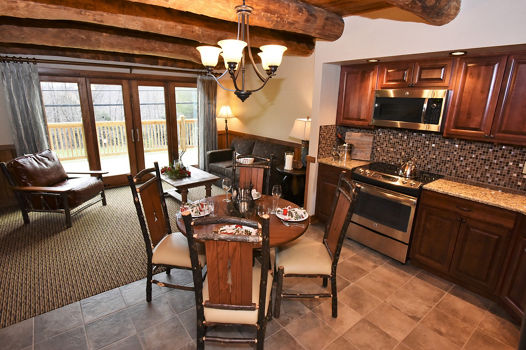 Chalets
Great for families and small groups, our chalets are fully-equipped and ideal for weekend getaways. Seven Springs classic and Tyrol chalets are conveniently located close to the main lodge, but far enough away for a quiet retreat.
Wedding Dining Options
Our award winning culinary team will work with you to create a wonderful dinner for your family and friends. We'll handle all of the details so that you can relax before, during and after your big day. In one locale with different settings, you can dine with your guests from the rehearsal dinner to the morning after brunch.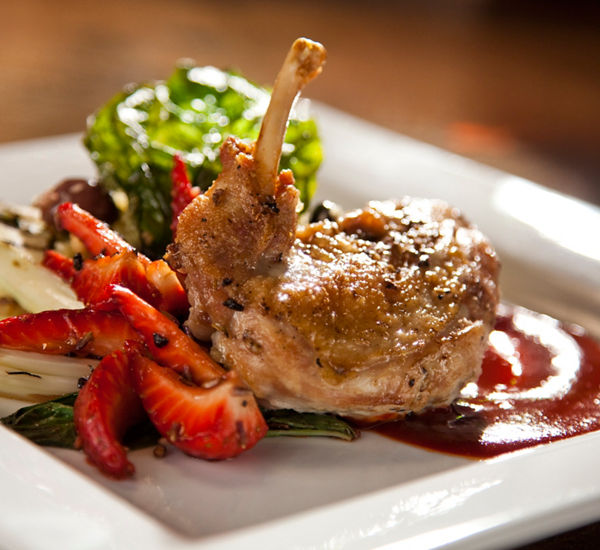 Wedding Dining
At Seven Springs, we believe that fresh ingredients and produce simply taste better. All menus feature innovative and classic cuisine designed to ensure a remarkable experience. No matter your selection, our culinary team is certain to please.
Rehearsal Dinner
Spend the wedding rehearsal dinner eating and drinking merrily, as your two families get better acquainted before the wedding day. We will customize your night before the big day in any way you can imagine. It will be that perfect starting point to your memory making at Seven Springs.
Wedding Amenities
The amenities at Seven Springs set us apart from anywhere else that you are considering for your wedding destination. From the tranquility of the Trillium Spa to the challenge of the nearby Highlands Golf Club, Seven Springs is the best place for you and your guests to celebrate.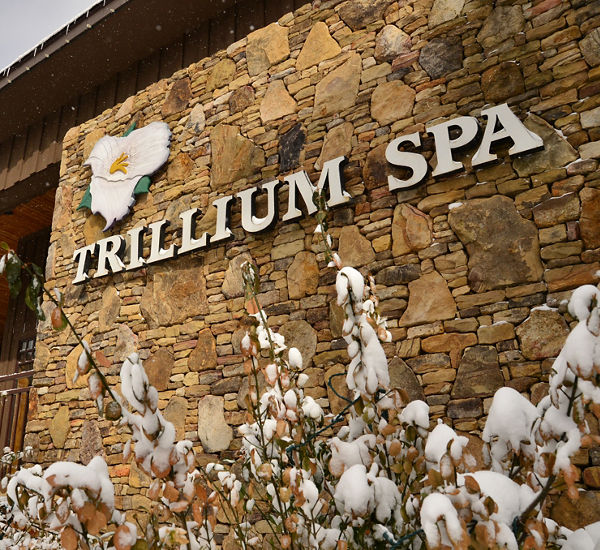 Trillium Spa
Seven Springs' Trillium Spa is a sanctuary unlike any other. Ideal for first-time and veteran spa-goers, Trillium is the perfect place to escape the stress and commotion of wedding planning. Trillium is the place to relax, unwind and renew. Come up and rejuvenate your mind, body and spirit. Embrace the ultimate in relaxation and immerse yourself in the tranquil surroundings. After indulging in the luxurious intuitive care menu, you will be refreshed and re-energized for your big day.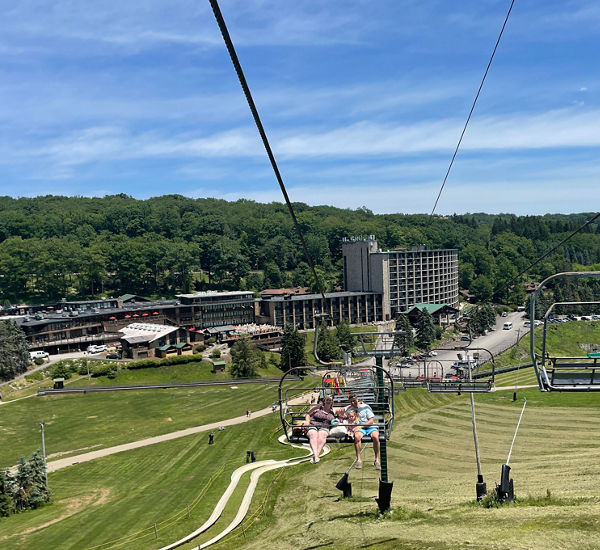 Adventure Center
Seven Springs is the one stop shop for outdoor fun. Choose from a rock climbing wall, an alpine tower, Alpine Slide, horseback riding, biking, hiking and more! Our adventures are sure to be a hit with your guests.
We have made millions of memories for brides and grooms over the years. No detail is overlooked when it comes to your big day; we will take care of everything! Contact one of our wedding professionals today so they can customize the perfect wedding for you and your guests. Please call 1-877-755-1349 to plan your big day.